Nonprofit comes to Harrisonburg and fights food waste by thanking frontline workers | Culture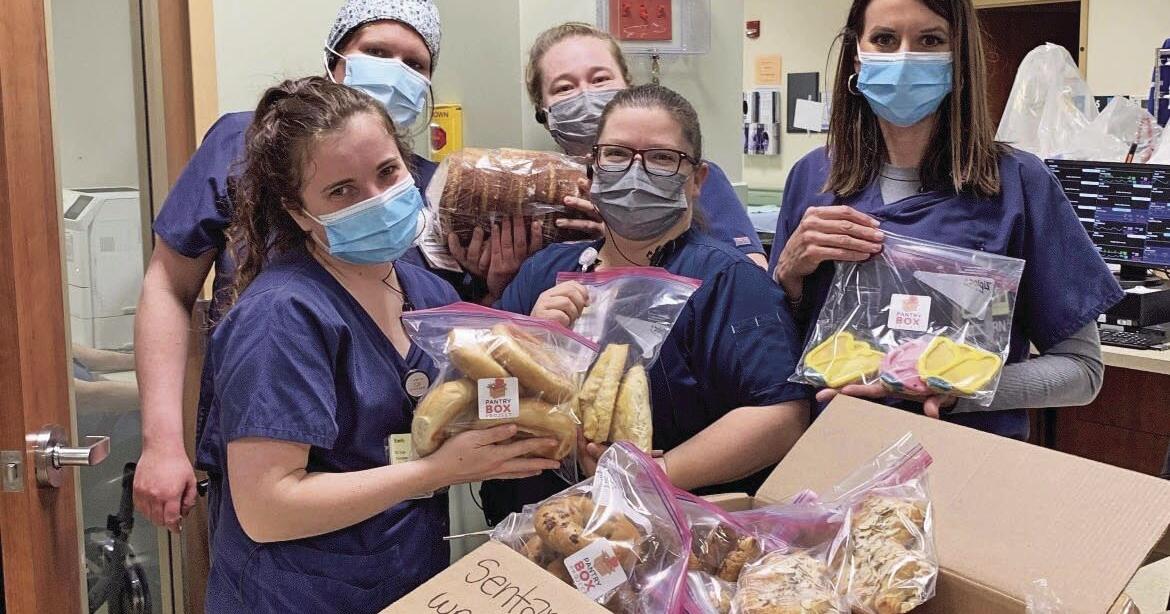 At the onset of COVID-19, frontline workers such as nurses and doctors were tasked with caring for patients affected by the pandemic. Hospitals were unprepared for the massive influx of patients, and protective equipment and knowledge were scarce.
With the toll the pandemic has taken on workers mentally and physically, former registered nurse Pam Blais said she wants caregivers in her community to feel cared for as well. That's why she started Care4Frontline, a nonprofit that delivers food packages to hospitals in Virginia Beach — and now Harrisonburg.
"Maybe we can just give people hope, help them build resilience, improve their coping skills, better understand how they feel and why," Pam said.
Pam decided that one way to give back to frontline workers was to deliver parcels of food and treats to them.
"We are collecting and donating meals and different snacks to frontline healthcare providers, especially emergency services and intensive care staff," said Pam's daughter, Sarah Blais.
Sarah and Diego Crespo Guido – sophomores at JMU majoring in Health Sciences and Media Arts and Design (SMAD) respectively – work at Panera in Dukes Dining. After brainstorming the idea of ​​bringing the nonprofit to Harrisonburg, Pam asked them, "What could your boss say is worse? With that, Care4Frontline has come to Harrisonburg.
"It's important for JMU to have that kind of connection with hospitals because if a student needs help, that's the hospital they'll go to," Sarah said. "This connection is good for both places," Sarah said.
Pam said she felt empathy for her colleagues at hospitals who cared for patients with COVID-19 and wanted to make sure they received outside care and were appreciated for their hard work.
"Knowing what it's like to work on the front line, to be exhausted and to need something to lift your spirits at the end of the day, so, 'Let's send food,' I thought. "Pam said.
What started as sewing masks and surgical caps turned into restaurants that reached out to Pam's friends in the community, asking how they could help frontline workers.
Restaurants have been unable to fill to normal capacity due to COVID-19 restrictions, causing large amounts of food waste, according to Pam. Starbucks has a philanthropic program called Food Share in which each store adopts a nonprofit organization to support. Three Starbucks in Virginia Beach have adopted Care4Frontline.
Pam said her initial focus was meal support and nutrition, but she said she realized workers were traumatized, depressed and leaving the bedside. Front line workers are so upset that in six months up to 50% of nurses will leave the bedside, says Pam. She said she knows nurses and doctors can often go unthanked, so she wanted to create an organization that thanks frontline workers a little more. Pam acknowledged that while these workers are not food insecure, they are going through tough times, so the meals are a beacon of hope.
"We hope to create a forum that allows frontline clinicians to feel safe, honored and heard, in which they rediscover the joy of commitment to their profession," said Pam.
Sarah worked with her mother at the start of their nonprofit organization in Virginia Beach, where she helped pack everything up and made deliveries to hospitals. Sarah said she wanted to expand deliveries to Rockingham, so she lobbied for those deliveries to take place locally.
"I think [Care4Frontline] can serve as an example to other universities that have not yet established this link with their local hospital," said Sarah. "We want it to be impactful so that this kind of practice can be adapted."
On a normal delivery day – which happens every Wednesday evening – Crespo Guido said they collect all the leftover pastries at the end of the day and pack them into boxes. On these boxes, Sarah and Crespo Guido write notes to frontline workers saying "thank you," telling them they are loved and their hard work is appreciated. Then, a nurse comes to pick up the packages and delivers them to the hospitals. Sarah said being able to offer workers a variety of options instead of just ordering a pizza is part of what makes Care4Frontline so special – because it keeps everyone involved excited for the next delivery.
"Our last delivery was really good," Sarah said. "We had a lot more than usual so staff were able to share, not only the emergency department staff but radiology, security, housekeeping and the psychiatric team all got some of the food."
Both Crespo Guido and Sarah said their favorite part of the organization was being able to give back all the relief the hospitals have provided to the local community.
"It keeps me going because I love them knowing we care and we're all here for each other," Sarah said.
What started with Pam delivering packages by hand to Sentara Princess Anne Hospital has now grown into a non-profit organization that has delivered over 200,000 meals to 14 different hospitals, expanding deliveries to Children's Hospital , Knight and Gail, VA EMS and more. They call their deliveries "love drops," Crespo Guido said.
"[Frontline workers are] supported and respected," Pam said. "There is a light at the other end of the tunnel, no matter how dark it is."
Care4Frontline has also brought mental health care into the hospital workplace. Nurses and doctors suffer 'moral injury', which Pam says occurs when working in stressful environments in uncertain times causes burnout, depression and post-traumatic stress disorder (PTSD).
"If we can help our providers be resilient, self-reliant self-advocates, that's all we seek to do," Pam said.
Hoping for the future, Pam and Sarah said they wanted to involve JMU more in the program and use the unknown amounts of unused food for a good cause. Although they reached out via Instagram and a personal connection, they have yet to hear back, Sarah said.
Hoping for the future of Care4Frontline at JMU, Sarah said she hoped to keep it and deliver to more hospitals with more community support.
"Even though we wouldn't be directing it, we'd still like to keep in touch, preferably with Panera, and any other places we can win while we're still here," Sarah said.
Pam and Sarah said they were motivated to expand Care4Frontline to extend the care and support they provide to frontline workers.
"It would be wonderful if other JMU food services or restaurants wanted to join Care4Frontline to support other units in Rockingham," Pam said.
Contact Melanie Frank at [email protected] To learn more about the culture, arts and lifestyle of the JMU and Harrisonburg communities, follow the Culture Bureau on Twitter and Instagram @Breeze_Culture.