Members of the South County Art Association showcase their work in the gallery's first exhibition of 2022 | Arts & Living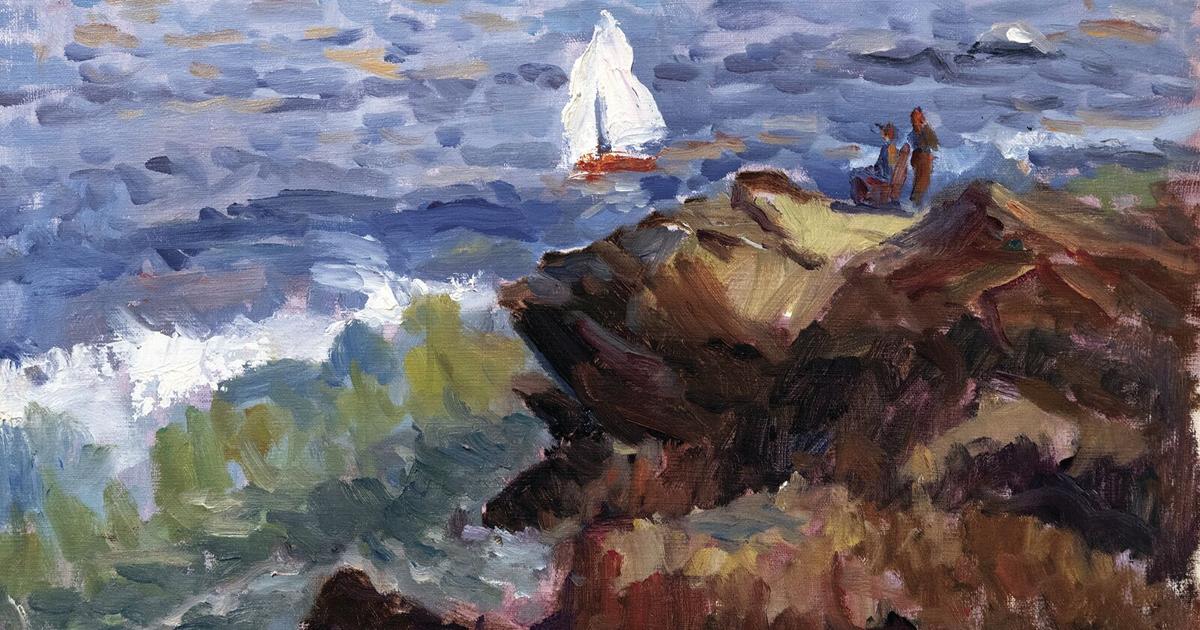 KINGSTON, RI — Artist Megan Hall joined the South County Art Association about two years ago because she wanted to one day exhibit her work in one of its member-invited shows.
Now she has her chance: Hall is one of five artists chosen to exhibit as part of the SCAA Members' Invitational, which is on display at the association's gallery until February 5.
She and the four other artists – Diana Sartor, Gary Chesky, Marty Pena and Elaine Stannard – were all chosen by Jason Fong, director of exhibitions at SCAA.
Fong said the association typically holds about three member-invited exhibitions a year, and said he has a host of criteria to decide which members' work to display — among them he looks for artists who have the accustomed to exhibiting their work in SCAA exhibitions and those who have a cohesive body of work ready to display.
And Hall was one of those artists.
"I felt like I had finally developed my work enough to have enough to show in a member show," Hall said. "It was really the biggest catalyst for me to join (the association)."
Hall said she presents around 12 to 14 pieces in the show. They range in size from 8 x 10 inches to 20 x 24 inches and are mostly paintings of plants or houses. The plants are depicted in their natural outdoor environment, while the houses are inspired by the historic houses on his street in downtown Wakefield.
Almost all of them were painted with acrylic paint, although one room was made of linoleum. Hall, an art teacher at Smithfield High School, said the piece was inspired by a similar project she did with her students.
Like Hall, exhibiting artist Diana Sartor said she was working to create a cohesive body of work that is now on display in the Members Invitational. But unlike Hall, Sartor's work is abstract.
The artist created most of her pieces last fall, she said. They range in size from 5 x 7 inches to 24 x 24 inches and are mostly made from oil and cold wax glued to "cradle boards" – wooden boards up to 2 inches thick. .
Sartor said his work focused on "color and color relationships".
"I'm always like, 'Well, what if? And if I put this color next to that? "said Sartor. "It's like a puzzle, painting that way, and I love doing it."
Sartor said she was happy to be cast on the show, although she admitted the timing wasn't ideal due to the rising number of COVID-19 cases in Rhode Island and in all the countries. Still, she says, she was thrilled to exhibit her work at the SCAA.
"I think any time you're invited or chosen, it's flattering," she said. "I'm thrilled to have this opportunity and hope that when people see my work, they'll see the joy I have in expressing myself with color."
Along with the members' invitation, an exhibition features the work of six artists who rent studios on the second and third floors of Helm House, the SCAA's gallery location.
Fong created this exhibition when plans for a different exhibition highlighting the work of artist Richard Parker, a 100-year-old World War II veteran in South Kingstown, unexpectedly fell through. He invited the nine artists who rent studios to submit one or two pieces to exhibit, and six sent him works.
The director said the exhibition is a good opportunity for the association to highlight an aspect of its gallery that is not well known to the public.
"One of the questions that gallery visitors often ask me is, 'What's going on on the second and third floors? What's upstairs? Fong said. "(During this show) people can see what's going on up there, some of the works that are being produced."
Together, the two shows paint a picture of the variety of work coming out of SCAA – and Fong said he tried to include a mix of newer and more experienced artists when putting them together.
"(Selection for an invitation from members) is based on the quality of the work, but also their level of participation and longevity in the arts association," Fong said. "And a lot of that just comes from talking to them and getting to know them and knowing when they might be ready to do a show like this."