Association of firefighters discusses traffic control | New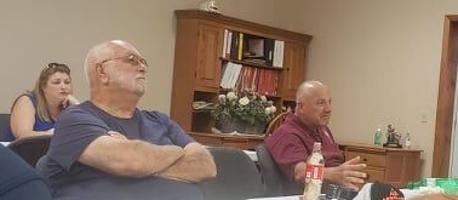 Volunteer firefighters discussed the radio issues at the Lewis County Firefighters Association meeting at the Jackson's Mill Volunteer Fire Department on July 19.
Miller Communications recently audited the radio tower used by the Weston Volunteer Fire Department and the Pricetown Volunteer Fire Department, with only two antennas in poor condition.
These two antennas are for Gilmer County, said James Gum, director of the Lewis County Emergency Management Office and Lewis / Gilmer E-011 Center.
Jane Lew, Volunteer Fire Chief Mitch Oldaker, said he had the key to accessing the Fisher Hill Tower, which is used by JLVFD and JMVFD.
Gum said he would schedule an audit of the Fisher Hill Tower, as well as the towers used by Midway VFD and Walkersville VFD.
County commissioner Agnes Queen asked about the cost of the audit, but Gum said he had not yet received an invoice. He estimated it at several hundred dollars.
JMVFD chief Steve Byers Jr. asked if in the future the E-911 center should hold all licenses for all VFDs, with Byers and Oldaker stating that licensing is not their concern, but communication .
Oldaker added that his firefighters can contact JMVFD staff, but it's hit or miss with the Weston Volunteer Fire Department. He said his firefighters had no problem communicating with Lewis County EMS either.
Joe Spray II, Lewis County EMS deputy coordinator and Firefighters Association secretary / treasurer, said the ambulance team is not running on repeater, but EMS staff are in outlying areas of the county. , it will change frequencies and access VFD frequencies, which is covered by MoU agreements. He said the EMS is currently wired, but that will change once the E-911 center moves to its new site on Route 19.
Spray also added, with first responders in attendance agreeing, that there is no service between Vandalia Wharf and Stonewall Jackson Dam. Power at the tower site cannot be increased due to Lewis County being in the National Quiet Zone, Gum said.
Weston Fire Department Chief Jimmy Suttle reminded everyone that the State Fireman's Association annual convention is scheduled for August 18-20 at the Stonewall Resort. Over 70 rooms have been reserved. He said the speakers have been selected and an agenda is available on the organization's website at www.wvsfa.org.
Byers said filing for the grant application is now open through the state Fire Marshal's office. Applications must be submitted by September 1, with around 1.4 million available. The maximum amount of the scholarship is $ 6,000, and he encouraged all departments to apply for that amount.
The association also requested the reinstatement of its 501c3 status and renewed its WV commercial license.
The next meeting is scheduled for August 16 at JLVFD, starting at 7 p.m.