30th annual vigil commemorates victims of domestic violence and honors survivors | Winchester Star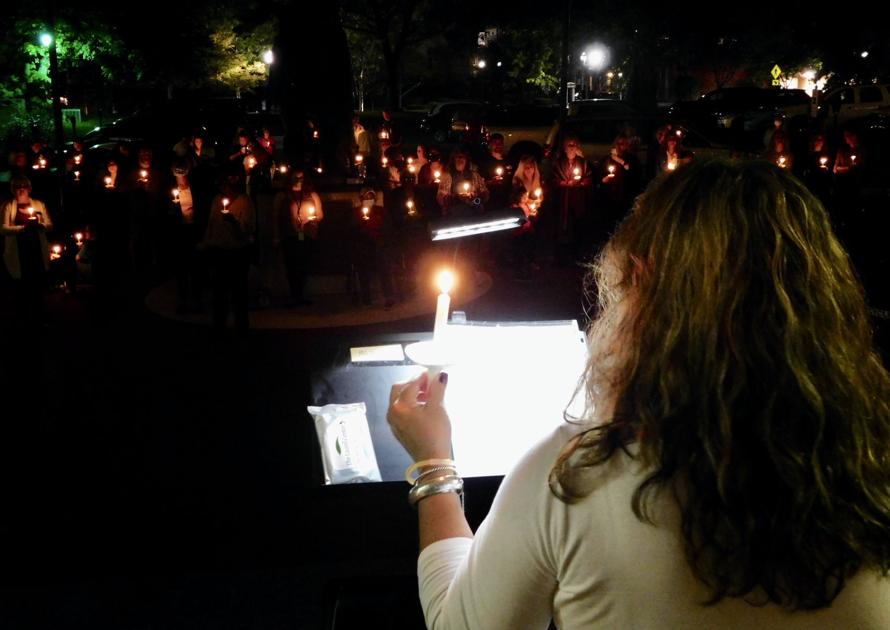 WINCHESTER – The Laurel Center has held its annual candlelight vigil for victims of domestic violence for 30 years now, but it hasn't been easier to hear the stories shared by survivors.
Take Catherine, for example, who told a crowd of over 100 outside the Joint Judicial Center in downtown Winchester on Thursday night about the horrors she endured while in a relationship with a cruel boyfriend. and controlling.
"One day I had a fleeting thought," Catherine said. "If I had to jump on the freeway, I could get out of this relationship."
Or Brian, whose emotionally abusive father was never satisfied with anything less than perfection.
"It got to the point where I tried to do everything perfectly to make her happy so that I didn't have to hear about it later so my mom didn't have to hear about it," said Brian. "He pestered me to be the perfect kid and it took away my childhood."
Or Cynthia, whose family fled to Virginia to escape the physical abuse of her drug addict father.
"I would get hit for the smallest things like crying or not finishing the food on my plate," Cynthia said. "I remember falling asleep crying at night because I didn't have my father's approval for anything."
Faith Power, Executive Director of The Laurier Center, told those who gathered in the dark Thursday that "this candlelight vigil is a way for us to remember those who have lost their lives due to domestic and spousal violence, and to honor those who survived the violence ".
"I wish we didn't have events like this," Winchester Mayor David Smith said, "because it would tell us we haven't had domestic violence."
The Laurel Center on North Cameron Street is a non-profit organization that provides emergency shelter and support services to victims of domestic and sexual violence in the northern Shenandoah Valley. Over the past year, it has provided temporary housing to 121 women and children who sought protection from their abusers.
Jennifer Smith, chair of the centre's board of directors, said those clients were represented at Thursday's vigil with the placement of 121 lights at the entrance to the Joint Judicial Center.
"The luminaries pay tribute to the strength and courage of those who are determined to live free of violence," said Smith.
"Domestic violence tears the very fabric of the community," said Power. "Children who witness violence against their parents may find it difficult to trust adults in the future. These children have higher levels of anxiety, anger, sleep disturbances, hostility, disobedience and [emotional] Withdrawal. … Adult victims suffer from a host of long-term health problems like heart disease, chronic pain, depression and post-traumatic stress disorder, which take a toll on our already overburdened healthcare system.
"It can also have a negative effect on a company's bottom line as a victim of abuse and the companies they work for lose workdays due to domestic violence," Power continued. "The abuser can come forward and harass their children and teachers at school, or the victim and colleagues at work. This endangers people who have no direct connection to private family matters.
October is Domestic Violence Awareness Month. According to National Coalition Against Domestic Violence:
In the United States, more than 10 million adults are victims of domestic violence each year. On a typical day, domestic violence hotlines nationwide receive more than 19,000 calls.
In Virginia, 33.6% of women and 28.6% of men experience domestic violence, rape and / or harassment in their lifetime.
Nationally, one in four women and one in 10 men experience sexual violence, physical violence and / or harassment by an intimate partner in their lifetime. In 2018, intimate partner violence accounted for 20% of all violent crime in the United States
From 2016 to 2018, the number of violent victimizations between intimate partners in the United States increased by 42%.
The Laurel Center celebrates Domestic Violence Awareness Month with various events throughout October. Among them is a special presentation by Julie Donaldson, domestic violence survivor, senior vice president of media and content for the Washington football team, speaking at a free rally from 5:30 p.m. to 8 p.m. Tuesday at the Brandt Student Center in Shenandoah University, and Family Drive-In Movie Night from 4:30 p.m. to 8:30 p.m. on October 30 to Family drive-in near Stephens City.
For more information on the Laurel Center and events associated with Domestic Violence Awareness Month, visit thelaurelcenter.org.